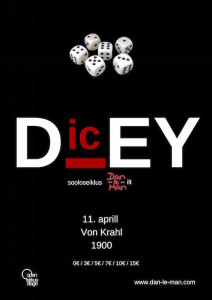 ** There are no ticket pre-sales or reservations possible as tickets are paid for after the show. Ticket price depends on the roll of a die. **
Every show is a premiere.

Cut the repertoire and show of multidisciplinary artist Dan le Man into 42 separate parts. Jumble them all up. Then stick them back together in a totally random order.
Welcome to Dicey, a one-man show that is fresh, new and different every time it's performed.
Will the opening happen after the interval or just before the finale? Will you get to see all the musical treats, circus acts, giggly bits on offer or will the show 'End' straight after we've indulged in a bit of contemporary art and magic… or before we've even started?
Inspired by the book ''Diceman'' (Luke Rheinhart)
Language: English, Estonian, Estonglish, Gibberish, Physical
Directed by chance
Show length, 5-150 mins
Ticket price, determined by the roll of a die
1 = free, 2 = 3€, 3 = 5€, 4 = 7€, 5 = 10€, 6 = 15€